<! -- ********** HEADER ********** -->
Apple and Blackcurrant Crumble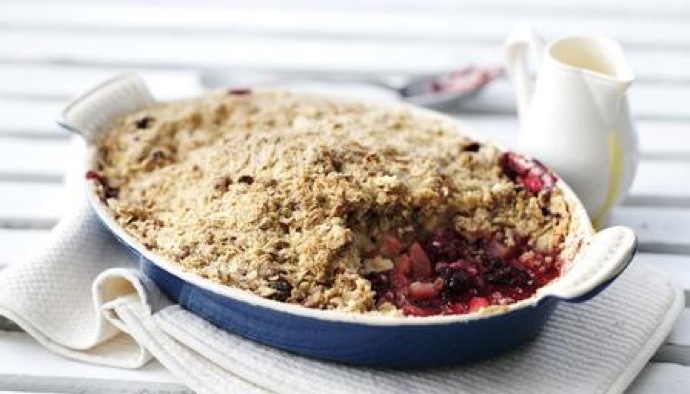 Ingredients
For the Fruit:
1kg of Cooking Apples
75g of Granulated Sugar
175g thawed Mr Jeffares Frozen Irish Blackcurrants (topped and tailed)
4 tablespoons of Mr Jeffares Irish Blackcurrant Cordial
For the the Crumble Topping:
225g of Plain Flour
125g firm Butter, diced
75g golden granulated Sugar
60g of rolled Porridge Oats
Method
Set the oven to preheat at 180C or 170C if you have a fan oven. Peel, cut and thickly slice the cooking apples in a pan with sugar and blackcurrants, along with 1 tablespoon of water. Cover the saucepan with a lid and allow the mixture to gently simmer for 15 minutes, or until the fruits have softened. Remove the pan from the heat, uncover and allow to cool for 30-40 minutes. Stir in Mr Jeffares Irish Blackcurrant Cordial.
Put the flour and butter into a bowl. Rub the butter into the flour until there is a breadcrumb appearance (or process in a food processor for 30 seconds). Stir in about one tablespoon of sugar and all of the oats. Spoon this evenly over the pan containing fruits. Gently press down and with the remaining sugar, sprinkle it lightly over the top. Place the dish into the oven and bake for 20-25 minutes or until the crumble is firm and has a pale golden brown appearance. Serve with a lightly whipped cream.
<! --/container -->
<! -- ********** FOOTER ********** -->
<! --/F -->