<! -- ********** HEADER ********** -->
Blackcurrant Baked Alaska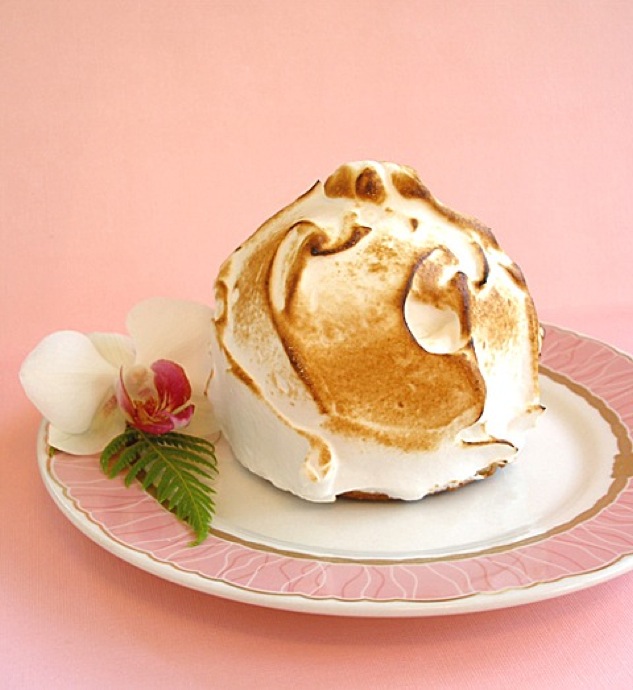 Ingredients
4 scoops of Vanilla Ice Cream
For the Blackcurrant: 60g Mr Jeffares Frozen Irish Blackcurrants
60g of Brown Sugar
For the Cake:
65g Unsalted Butter (room temperature)
65g of Caster Sugar
65g of Plain Flour
1 large Egg
½ teaspoon of Baking Powder
¼ teaspoon of Vanilla Extract
For the Meringue:
110g of Caster Sugar
¼ teaspoon of Vanilla Extract
2 Egg Whites
Method
Preheat the oven to 170C. Tear a large square of cling film. Scoop a ball of ice cream, making sure it is compact. Flatten the sphere a bit on one side, so it will fit onto to the cake. Then wrap in cling film and place in the freezer to harden. Thaw the blackcurrants and place them with the sugar into an ovenproof dish. Bake for 15 minutes, giving them a stir if the sugar hasn't blended properly with the blackcurrant juice. Leave it out to cool until there is a jam like consistency. Butter and line a sandwich tin. Make sure the butter is soft then add in all the cake ingredients into a bowl of a stand mixer, or a mixing bowl if you are using an electric whisk, blend until all ingredients are combined. It should be ready when the mixture drops off a spoon slowly, if not add a dash of milk. Place the tin into the oven and bake for 15-20 minutes until golden brown, it will be done when you pierce the centre and it comes out clear. Leave it to cool for a few minutes and then turn out onto a wire rack. When nearly ready to serve, turn the oven up to 220C for the meringues.
Trim the cake if it has risen too much and cut out 4 circles at 6cm each. Spread ¼ of the blackcurrants onto each of the circles, and place onto a lined baking tray. Pour the egg whites into a separate bowl, whisk the egg whites until you have stiff peaks that curl over and gently add the sugar. Add the vanilla and briefly whisk through. Remove one of the ice cream scoops and place it in the cakes. Quickly spoon the meringue on top of this and spread all over, there must be no gaps and it needs to relatively thick (1cm). Quickly repeat for the others. Place in the oven and bake for 3-4 minutes until the meringues have a golden brown colour and serve immediately. The recipe makes 4 servings or 8 servings if it is halved.
<! --/container -->
<! -- ********** FOOTER ********** -->
<! --/F -->