<! -- ********** HEADER ********** -->
Blackcurrant Cupcakes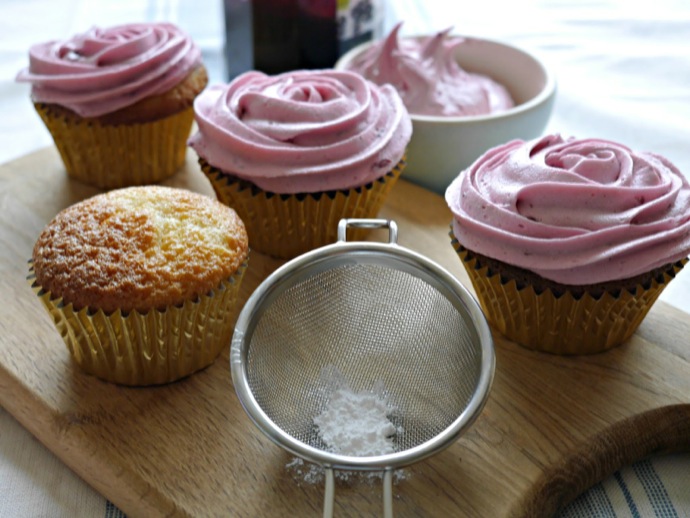 Ingredients
For Cupcakes:
80 ml Mr Jeffares Irish Blackcurrant Cordial
2 Eggs
125g of unsalted Butter at room temperature
100g or half cup of Caster Sugar
225g self raising Flour
For the Icing:
210g of Butter
375g sifted Icing Sugar
3 tablespoons of Mr Jeffares Irish Blackcurrant Cordial
Few tablespoons of Blackcurrant Jam
Method
Preheat the oven to 190C. Place bun cases within a bun tray. Blend together the cordial, butter, eggs and sugar together for one minute. Next, add the flour and blend for another minute. If you do not have a food processor, blend the butter and sugar together using an electric whisk or beater, until smooth. Add the eggs one at a time and beat well. Add the cordial and flour to the mixture, and quickly mix until all ingredients are combined. Dollop the batter into the bun cases using a spoon, and fill to ¾ full. Place the tray into the oven for 15 minutes. After this time, using a skewer, pierce the centre of a cupcake on the edge of the tray. If it comes out clear, they are sufficiently baked. Place the cupcakes on a wire tray in order to cool completely.
For the Icing: Remove the butter from the fridge well within time of preparation so it is at room temperature. Chop the butter and blend on high using the electric mixer. Add the icing sugar gradually, and turn the mixer to low. Next, pour in the cordial and add a few tablespoons of blackcurrant jam. The icing should remain smooth, if not you may have to alter the icing sugar amount. Pipe the icing over the tops of the cupcakes. For later consumption, store in an airtight container for a couple of days.
<! --/container -->
<! -- ********** FOOTER ********** -->
<! --/F -->