<! -- ********** HEADER ********** -->
Blackcurrant Sorbet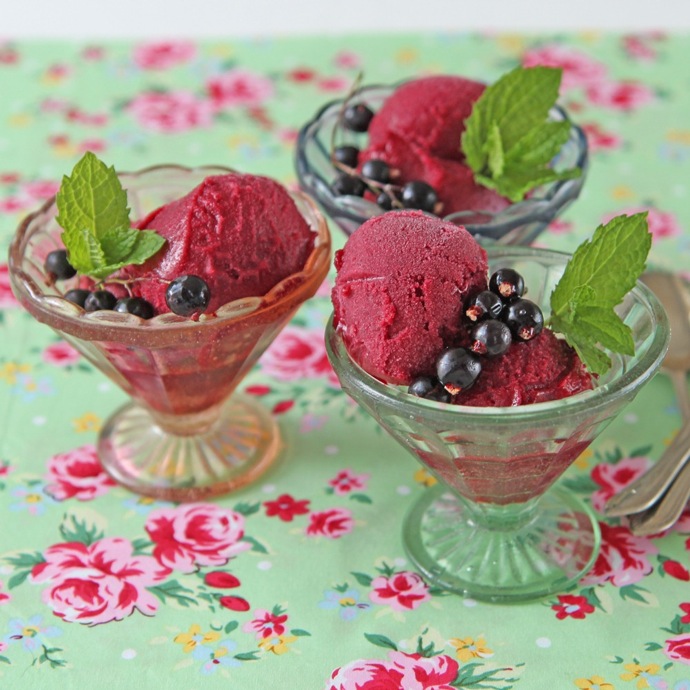 Serves 4-6
Ingredients
454g Mr Jeffares Frozen Irish Blackcurrants
118ml of Water and 2 tablespoons of Water
100g of Sugar
1 Egg White (optional)
6 tablespoons Mr Jeffares Irish Blackcurrant Cordial
A lightly whipped Cream to serve (optional)
Method
Put the blackcurrants and water into a saucepan, cook gently for 10-15 minutes until the mixture is soft, then add the sugar. Blend this then sieve well. Leave out 3 tablespoons of the puree, and pour the rest into a suitable container and freeze until solid around the edges of the mixture, or you can put the puree into an ice cream maker and follow the manufacturer's instructions.
If you are making the sorbet without an ice cream maker, you can make it lighter by adding an egg white before the puree is frozen completely. Whisk the egg white until stiff and whisk into semi frozen blackcurrants puree to make a fluffy mixture.
Pour the mixture back into the container and freeze until solid. Make a simple sauce by mixing the reserve puree with Mr Jeffares Blackcurrant Cordial. Take the sorbet out of the freezer 30 minutes before eating. Serve in individual glasses with sauce on top and cream (optional).
<! --/container -->
<! -- ********** FOOTER ********** -->
<! --/F -->