<! -- ********** HEADER ********** -->
Frozen Mango, Blackcurrant and Vanilla Mosaic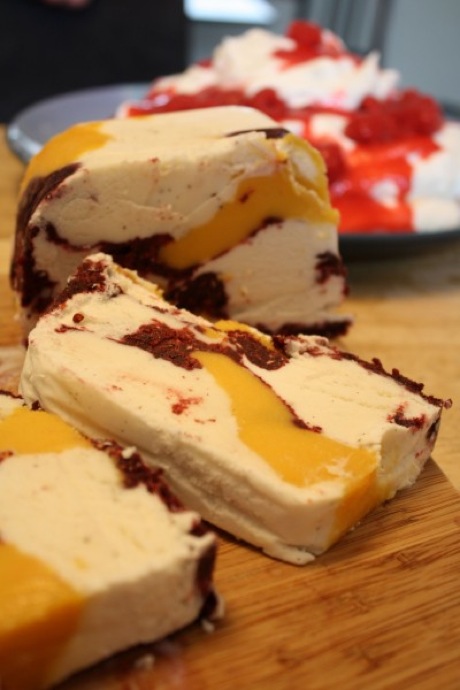 Ingredients
946ml of Mango Sorbet
473ml of Vanilla Ice Cream
300g of fresh Blackberries
50g of Sugar
2 tablespoons Mr Jeffares Irish Blackcurrant Cordial
Loaf pan or 8 cup capacity mould
Method
Place the sorbet and ice cream into the refrigerator for 45-60 minutes until evenly softened. Puree sugar, blackberries and Mr Jeffares Irish Blackcurrant Cordial together until smooth. Then strain thoroughly through a fine sieve over a bowl. Press and discard the solid parts of the mixture. Freeze the mixture until slightly thick and when ice cream is ready, 20-40 minutes.
Stir well until smooth. Lightly oil the loaf pan, then cut a piece of parchment to fill bottom and along the sides of the pan. Leave at least 3 inches of overhang on each side. Fill the pan decoratively with spoonfuls of sorbet and ice cream, pressing down and filling the empty spaces with blackberry puree as you go. Smooth the top, pressing down with the back of a spoon prevent air spaces.
Fold parchment flaps over top and freeze until solid for at least three hours. To unmold, run a thin knife along short sides of the pan to loosen mosaic, then open the parchment and invert onto a flat serving dish. Discarding the parchment, cut mosaic into ½ inch thick slices.
<! --/container -->
<! -- ********** FOOTER ********** -->
<! --/F -->