<! -- ********** HEADER ********** -->
Poached Pear in Blackcurrant Juice with Bourbon Vanilla Ice Cream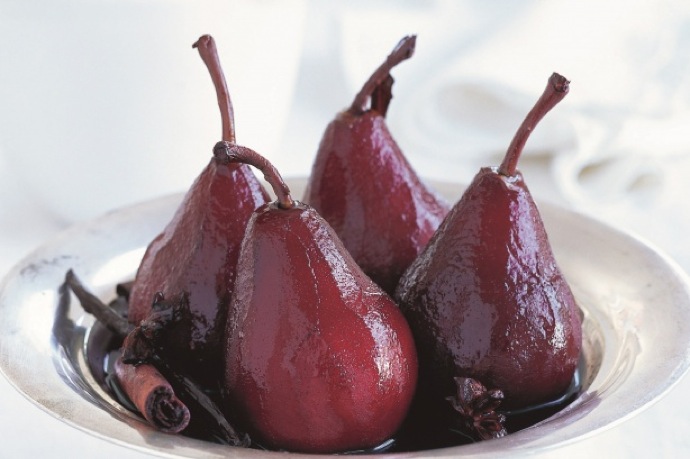 Ingredients
4 Pears (peeled, stem retained)
200g of Caster Sugar
Mr Jeffares Irish Blackcurrant Cordial
For the Creme Anglaise:
150 ml of milk
150ml of Double Cream
1 Vanilla Pod (split, seeds scraped)
4 Egg Yolks
40g of Caster Sugar
For the Vanilla Ice Cream:
2 Vanilla Pods, 500ml of Double Cream
70g Sugar
3 Egg Yolks
Method
In a large bowl, mix together the egg yolks and sugar until you get a fluffy consistency. Pour the milk, double cream and chopped vanilla pods and seeds into a heavy bottomed pan. Bring this to the boil and allow to simmer for at least 4-5 minutes. Take the mixture off the heat and allow to cool for approximately 30 seconds. Pour the milk mixture onto the eggs and sugar, whisking this continuously until you get a smooth and creamy texture. Return this mixture to the saucepan. Over a medium heat, place the pan and stir rapidly and consistently for 4-5 minutes, after this, place the mixture into the fridge and allow it to chill until it is needed later.
For the vanilla ice cream: Halve the vanilla pods lengthways and scrape out the seeds. Add the pods to the sugar and stir until it dissolves. Whisk the eggs in a large bowl and strain the cream gradually onto them, while stirring constantly. Pour the ice cream into another bowl through a sieve and whisk in the vanilla seeds. Pour this mixture into an ice cream maker or large freezer proof dish. Freeze the ice cream until it sets. This will take up to 2 hours. Due to the absence of milk in this recipe, the ice cream does not not crystallize in the freezer bowl. There is no need to stir the mixture. This makes it ideal for anyone without an ice cream maker.
For the Pear: Mix Mr Jeffares Irish Blackcurrant Cordial with caster sugar to taste. Core the pears and place them into a deep saucepan of blackcurrant juice. (Make sure that the stem side is upwards) Bring to the boil and allow the pears to simmer until they are soft and have been cooked through. Take the pear from the saucepan and take a cutting diagonally across the bottom in order that the pear sits at an angle on the plate. Decorate with raspberry sauce and creme anglaise. Serve with the homemade vanilla ice cream.
<! --/container -->
<! -- ********** FOOTER ********** -->
<! --/F -->