<! -- ********** HEADER ********** -->
Roast Venison with Blackcurrants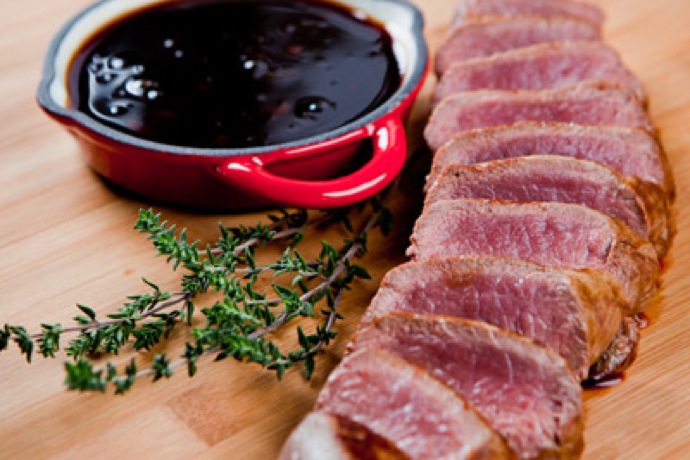 Ingredients
2 x 200g pieces of Venison Loin
2 tablespoon of Olive Oil
2 Glasses Red Wine
600ml stock (Beef or Game)
6 tablespoons Mr Jeffares Irish Blackcurrant Cordial
10g of unsalted Butter
200g Mr Jeffares Frozen Irish Blackcurrants
Salt and Pepper
Method
Season the venison with salt and pepper. Heat oil using an oven proof frying pan. Place the venison within the pan, until it is brown on both sides. After browning, put the venison loin into a hot oven and cook for up to 5-6 minutes. Following this, remove the pan from the oven, placing the venison on a warm plate covered with tin foil. Leave this to rest for 6-8 minutes.
Drain away any excess oil from the pan, and add the red wine and boil quickly at a high heat. When almost reduced, add the stock and once more reduce rapidly until a nicely thickened sauce is apparent.
Add Mr Jeffares Blackcurrant Cordial, with butter and whisk well, sample and taste the mixture adjusting the seasoning where necessary. Using a sieve, begin to strain the mixture into a clean pan. Add a few blackcurrants and stir well. Coming back to the loins, slice them well and drain onto kitchen towel paper. Place the venison onto a warm plate spooning the sauce over it with a few blackcurrants.
<! --/container -->
<! -- ********** FOOTER ********** -->
<! --/F -->